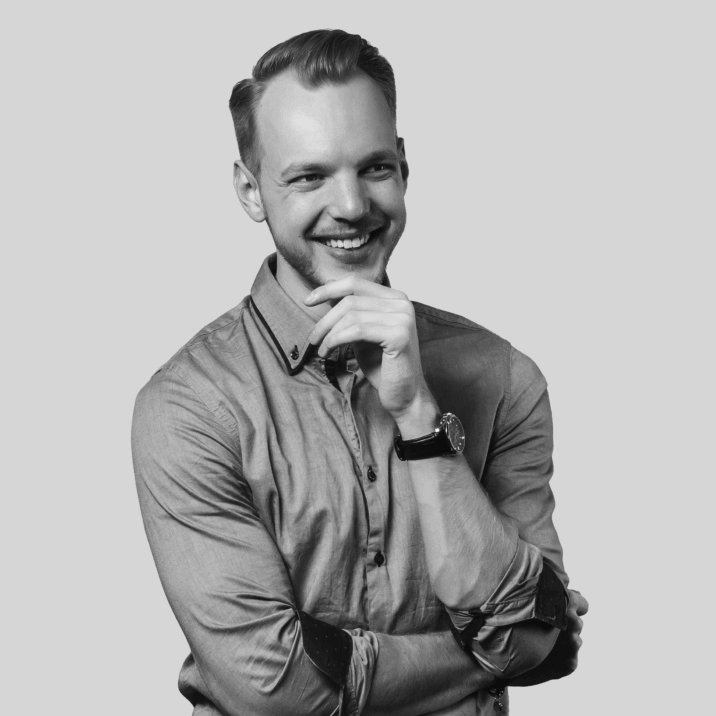 Václav Gregor
Chief Executive Officer
This is my story — I'm a college dropout and I'm 28 years old. At the age of 17, I started getting into online marketing and entrepreneurship. This was also the age I launched my first blog and got my first client in the US. After regularly advising a company on what to do to grow their numbers, I became the Chief Marketing Director by the age of 19.
Soon after that, I formed my first company, one that offered customer tech support for English speaking B2B clients. And co-founded a high-end tech development agency for US influencers and 8figure digital brands.
I don't want to become the product of my environment and complain about how things are. I am the catalyst for the change and I want my environment to be the product of my change within.
We hired our first employees and slowly grew to 35 people. We launched some of the biggest sites on the internet in the self-help and healthcare industry, partnering with major players. We were the brains and creators behind Flo Rida's FloFit TV. We also created and launched Venus Factor that grew to OVER 1.3 million users in 4 years.
We hit $1mil in revenue 3 years into business. Our business group was responsible for 20% of ClickBank's gross revenue (the biggest US payment gate and affiliate tool provider).
In 2017 I invested $300k with my business partner into a CRM startup that failed miserably. So we decided to kill our startup company at a huge loss, payed out all the employees what we promised and left the office having learned painful lessons. We had to fire 12 people in one day, I cried on that day. But this project taught me more lessons and enriching experiences than any of my successes. I'm still leveraging the know-how I gained from that experience, whenever I have to make tough and crucial decisions.
In 2018 I sold (first exit) my main company and moved to NYC for a while. I started consulting for startups (before the Series A phase), venture funds and focused on accelerating small online tech companies. I went through some accelerators in the US and got very disappointed with the quality of the service.
In 2019 I partnered with a Forex company and launched my influencer YouTube show. I got to several thousand subscribers in just a few months, building a strong PR and networking tool.
In 2020 I fired all of my consulting clients. They were bringing me too much toxicity and, after months of hard work, dozens of "no"s and many endless nights, I co-founded Soulmates Ventures with a goal of fixing the broken startup world. I now want to protect investors, guide founders and follow my dream to build a more sustainable and healthier economy. Armed with a strong partnership and extremely senior team, I set myself on a mission to build cash flow positive startups with real impact, startups that will survive and thrive even when the economy goes down.
Overall I've closed millions of dollars worth of deals and sales for my companies alone. When I counted last year it was little over $2,4mil for my previous company alone. I've launched over 100 projects, brands and startups. I worked with major A level influencers, built platforms with millions of users, led teams of dozens of people. I've been a CMO and a CEO of several companies, I've made and lost a lot of money as an entrepreneur and currently my #1 focus is to share my experience, know-how and mistakes that I've made along the way. I've made more mistakes than I can count, so there are plenty of lessons to share.
Send me your story and what you are working on and let's talk – e-mail me.
Current Companies
Soulmates Ventures
Made By Soulmates
Past Projects
Webvalley
NecktieCRM
Modern Entrepreneur
Adonis Lifesetyle
Venus Factor
FloFit
QolabX
ApuTime
MStaxk
Dream Team Intensive
Pillar Sales
Yoga Brun
Paleo Reboot
TradeContext
Optimal Health & Wellness
Gotham Club
Eat Stop Eat
GolfLink
Perfect Origins
Simple solo Builder
Diabetes escape plan
Thin from Within
Aliant solutions
Click And Coach
Mindset Performance Training
BESHARK
Muscle Pyramid
Tonak
Keto Resource
Awesome U