2021
Making the digital world higher quality and more sustainable by bringing in unique copies of the real world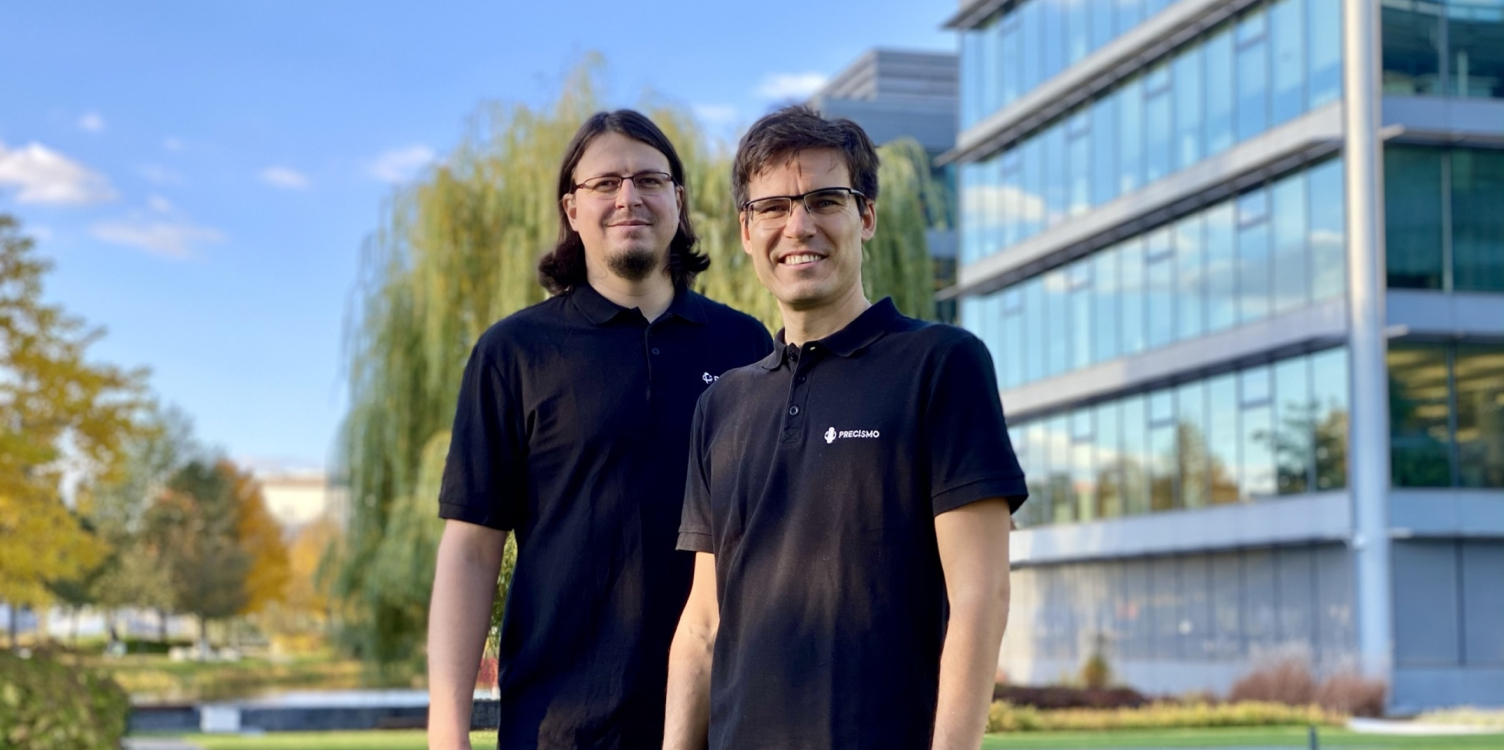 Precismo
A more sustainable delivery path in the e-commerce industry by the creation of accurate replicas of real products for use in 3D, AR & VR.
Milestones
Founded 2017
Acquired 2021
Accelerated 2022

Team
Mikoláš Herskovič CEO
Zdeněk Glazer CTO
Matěj Švrček CFO
Tomáš Vrbka CMO
Pavel Havránek Product

Partners
Soulmates CEE Fund
Koopeo Ventures
Nation1
The solution
With huge growing development throughout the e-commerce industry, there's also a growing amount of goods being ordered. Each of these orders has its own carbon footprint.
The delivery system is usually set-up with components such as transportation of the order, packaging material, the production of the product, second-use or possibly waste management, and sometimes also the operations costs of the product through its use.
For some of those orders, we know we will use them no matter what. But for some of them, things like clothes, shoes, electronics, we order them to try it out – to see how they work or look. If it doesn't meet our expectations, we send it back, creating another source of unnecessary waste and carbon emissions.
Precismo aims to help customers make more informed choices by creating a unique technology that is transforming real objects into a digital representation, with minimal manual intervention and of high industry quality.
The 3D scanning technology can be used in detecting every tiny scratch, defect and flaw of things in a cost-effective way too. Due to its fully automated process, with higher precision than with traditional industry methods, Precismo's technology has been positively deployed in the Automotive & Car Parts Industry, Aircraft manufacturing, Porcelain Manufacturing.
This feature also opens doors to the second-hand market for big retailers who often use second-hand cars, furniture etc. and sometimes even for the waste of the company.
The uniqueness
Unlike competitors who focus on one product only (e.g. 3D models or photos), Precismo offers a complete solution included in one ecosystem and provides a comprehensive solution for the sustainable retail and e-commerce market, media market (i.e. 3D models, product photos and videos, AR files, web viewers, web configurators… ), quality control market, second-hand market with the circular economy.
The startup's proprietary algorithms use artificial intelligence and computer vision mathematics to smooth out automatically generated 3D models and to improve the efficiency of the scanning system.
The profit
Soulmates Ventures Group has become the lead investor in the current investment round of the Precismo project, with an amount approaching €1 million. Soulmates Ventures Group is the third investor, after KOOPEO Ventures and Nation1, to help fulfil the global ambitions of the startup Precismo.
The common goal of the founders and the new co-owner is to develop the technology, acquire new clients in the Czech Republic and abroad and prepare for the entry of a global investor. This will accelerate the growth of the company's value to a level in the upper tens of millions of euros in the coming months.
"From a financial point of view, we chose the Precismo project because of the expected rapid jump in valuation for the next Series A, where we will target a value in the higher tens of millions of euros," says Jiří Kuchyňa, CFO of Soulmates Ventures.
Soulmates Ventures will contribute to such an increase in valuation not only through its investment but also through the involvement of Precismo in the acceleration program, especially in the areas of marketing, sales and financial management of the company.
In view of this ongoing change, we see economic potential and a valuation of up to one hundred million euros in Precismo.
The investment will be used to expand capacity, marketing and sales activities and to make a significant shift in product development.
Business negotiations are currently underway with major global retail and e-commerce players. Existing clients include Procter & Gamble, one of the strongest companies in the FMCG sector. "It is the business development and scaling of Precisma's solutions to the global mass market, that is the main common goal, which will most likely result in the entry of another major investor," concludes Sochor, the founder of Soulmates Ventures.
The purpose
We see one of Precismo's great purposes in the e-commerce sector. Precismo is aiming to make the shopping process better quality by creating authentic 3D copies of the real products, letting the customers look from what materials the product is, together with specific information about the product.
And, with more quality decisions, there could also be a decrease in the returning of products back to shops, happening specifically with clothes, shoes or electronics, which will lead to a smaller amount of travel, packaging material and a smaller amount of emitted GHG.
Sustainability
Step 1

Sustainable Development Goals

The Sustainable Development Goals (SDGs) were adopted by the United Nations in 2015 as a universal call to action to end poverty, protect the planet, and ensure that by 2030 all people enjoy peace and prosperity.

Ensure inclusive and equitable quality education and promote lifelong learning opportunities for all.

SDG 8

Decent Work and Economic Growth

Promote sustained, inclusive and sustainable economic growth, full and productive employment and decent work for all.

SDG 9

Industry, Innovation and Infrastructure

Build resilient infrastructure, promote inclusive and sustainable industrialization and foster innovation.

SDG 11

Sustainable Cities and Communities

Make cities and human settlements inclusive, safe, resilient and sustainable.

SDG 12

Responsible Consumption and Production

Ensure sustainable consumption and production patterns.

Take urgent action to combat climate change and its impacts.