The problem of consumption behavior has become an unquestionable issue. Normally, the issue resonates the most amongst younger generations such as Gen Z and Millennials who are more open to a resale market and shared economy. Yet, COVID 19 has changed buying habits across the whole society and, hopefully, it will lead to a more sustainable environment in the future.
Consumption behavior became a society problem
One example for all is the fashion industry as one of the major environmental polluters with its estimated turnover of around $ 1.5 trillion this year. The whole fashion industry produces similar amounts of greenhouse gases as the entire economies of the UK, France, and German every year.
Today's society is trapped in the consumption cycle, and not only within the fashion industry. Everyone is exposed to many shopping opportunities every day and under social pressure, men often buy things they do not need. Another external factor that supports consumption behavior is an advertisement. It contributes to the consumption cycle as people purchase sometimes a new "updated version" of a product they already owned and it is fully functional.
Young people drive changes in shopping behavior
A lot of research shows and confirms that Gen Z and Millennials have a greater propensity to buy and use products and services that are more environmentally friendly. As such sustainability is becoming a key factor in their decision-making process. This is confirmed also by the latest McKinsey research, in which, despite facing the crisis due to COVID -19, 88% of respondents believe that more attention should be paid to reducing environmental pollution and more than 60% of respondents say they are trying to recycle and buy more products in environmentally friendly packaging.
The research predicts that they will consider second-hand shopping more often even after the crisis. The latest data shows that 33% of Gen Z and Millennials did some resale or rental in the last 12 months. It is confirmed also by the Paris premium resale platform "Vestiaire Collective" which has more than ten million users worldwide.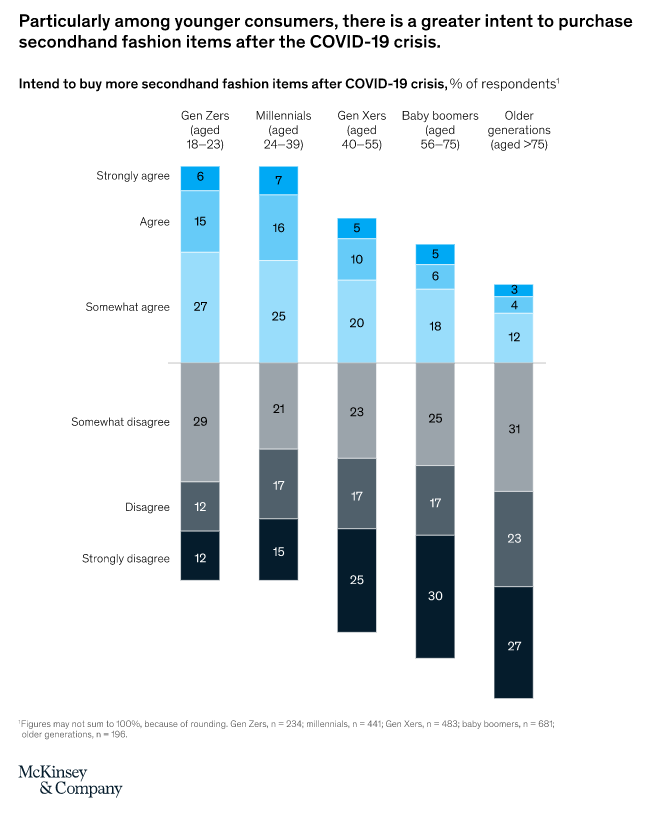 Also, large brands in the so-called fast fashion segment react to this overall issue. H&M Groupe aims to use only sustainable materials by 2030. By using innovations and technologies they not only support the recycling process during product development but also want to incorporate new technologies directly into products – such as digital ID which helps people to swap, borrow or repair clothes, and supports circular economy models.
Czech start-up Leepa wants to support the circular economy
Leepa's vision is to create an ecosystem that connects people and creates a balance between consumption and sustainability.
How? Through an attractive marketplace in a user-friendly application, which is based on a swap, the exchange of used things between people.
"In Leepa, we do not say that consumption is the only evil and criticize people for buying something new. The most important thing is to find a balance. There are many other needs that can be met in a more friendly way for our environment and thanks to our technology it can be very easy.'' said David Petrbok – CEO & Founder of Leepa
Leepa is an application that allows people to swap things they no longer need for things they are looking for. Overall, Leepa is not limited only to the exchange of things but also supports the exchange of services and skills.
"We see a huge potential in services and skills sharing, it fulfills a very important element of society socialization. Regarding COVID 19 large companies cut budgets for personal development and education, so skills sharing between people would support personal development with limited financial costs.'' said David Petrbok – CEO & Founder of Leepa
COVID 19 restrictions significantly accelerated overall digitalization
Some people who had barriers to shop online had no other choice but to shop online. 2/3 of them say they would continue shopping online even after the end of the pandemic. The synergy of digitalization and strengthening the values ​​based on sustainability and social responsibility within young people can lead to a positive transformation not only of the fashion industry but also the overall economy.
Sources:
https://www.mckinsey.com/featured-insights/the-next-normal/fashion
https://www.mckinsey.com/industries/consumer-packaged-goods/our-insights/true-gen-generation-z-and-its-implications-for-companies
https://www.mckinsey.com/industries/retail/our-insights/survey-consumer-sentiment-on-sustainability-in-fashion
https://www.warc.com/content/article/nearly-90-of-consumers-have-changed-their-behaviour-because-of-covid-19/132043
https://www.czechcrunch.cz/2020/12/opravdu-potrebujete-obri-satnik-cesky-startup-dressibly-bojuje-s-fast-fashion-a-uci-uvedomelemu-pristupu-k-obleceni/