The year 2020 is most remembered for the Covid-19 pandemic, but we would like to summarize this memorable year with a focus on the industry that we understand the most – let's look back at how the year 2020 shaped startups and venture capital.
How was Europe's startup industry in 2020?
Now, more than ever, the European startup ecosystem looks more established and more experienced. Meanwhile, while writing this article, more and more U.S. and Asia VC investors are looking for their new investment and moving to European markets.
What can this new movement of experienced investors bring to the European startup ecosystem from the U.S. and Asia? Firstly, mainly for startups: money. More investors are looking for opportunities in Europe, meaning more competitors are fighting for the chance to be part of the most talented startups. This demand raises the startups' valuations and more investment is given to them.
And we can see this phenomenon already happening. According to data from Dealroom.co, the number of Seed and Series A rounds in Europe is decreasing. In 2018, the number of rounds was at the highest at 161 deals p.a., but in 2020 the number fell to 138.
However, the number of total funds raised for Seed and Series A rounds is still rising. In 2018 the investment amount was $12,14bn and in 2020 the number raised went up to $13,10bn.
In fact, according to Pitchbook data, VCs (including investment in Israel) invested a huge $46bn in the European continent in 2020, breaking the $41,8bn record from the previous year.

How was the Czech Republic startup ecosystem in 2020?
In the Czech Republic, we can also see rising trends. A report from startup legal company Mavericks confirms that the median deal size of Czech startups has increased from $0,4M in 2019 to $0,5 in 2020. The progress is even more visible at a median pre-money valuation of Czech startups which has increased from $2,3M in 2019 to $3M in 2020.
In conclusion, the study estimates that more than 100 pre-seed and seed investments happened last year at an overall value of at least €120M.
So, if you are deciding whether to launch your startup in the Czech Republic or not then according to a new study from NimbleFins, the Czech Republic is your 9th best option in the whole of Europe.
The most favourable aspects of launching in the Czech Republic include the Economic Health Rank, where the country ranked 7th place, and the Cost of Doing Business Rank where it came in 6th place. The biggest strengths chosen by the CEO of NimbleFins, Erin Yurday was:
Low cost of doing business, due to attractive corporate tax rates and below-average salaries and costs of living
Widely-educated population, with 90% of adults achieving at least an upper secondary education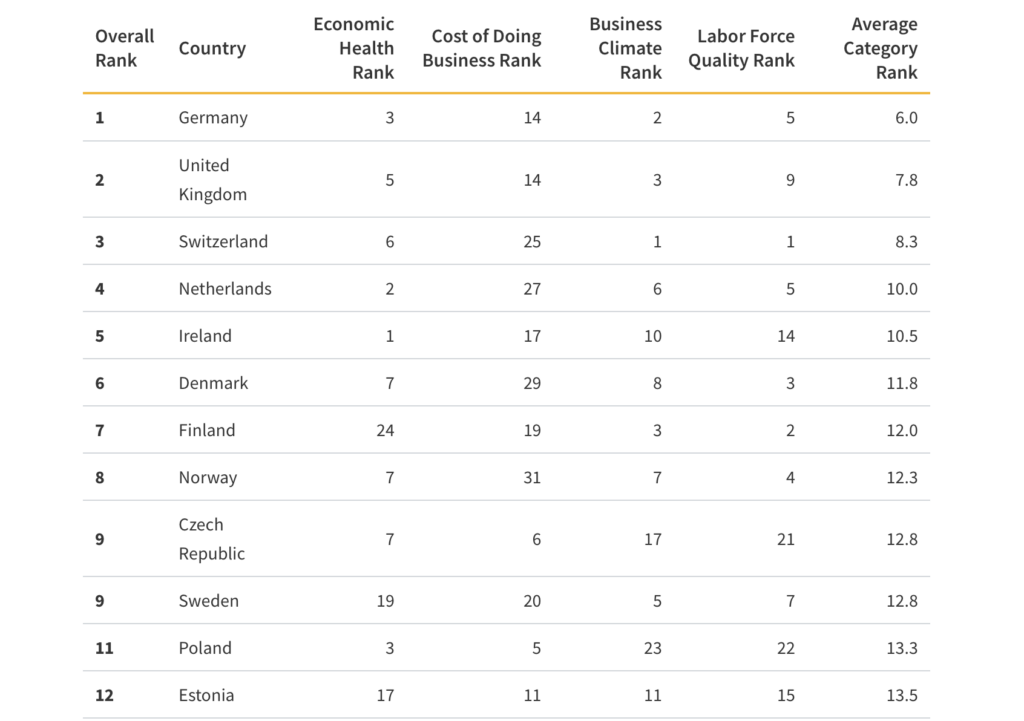 The European startup industry is developing strongly, earning the attention of world investors. As a result, we can expect a higher valuation of investments raised during funding rounds and the arrival of skill-filled human talents moving towards a more startup attractive Europe.
Next time, we will focus specifically on startups in the sustainable innovations sector.
Resources
https://www.mavericks.legal/startupy/
https://www.nimblefins.co.uk/business-insurance/best-countries-europe-startups-2020#meth
https://praguemorning.cz/czech-republic-is-9th-best-country-for-startups/
https://www.e15.cz/byznys/startupy/startupove-investice-v-cesku-za-rok-2020-rostly-sumy-i-celkove-valuace-1376994
https://medium.com/speedinvest/understanding-the-new-early-stage-funding-cycle-in-europe-693331c68cb5
https://pitchbook.com/news/articles/hot-or-not-where-european-vc-funding-went-in-2020